Introduction — A Guide to Using This Unit
Whether you regularly use the outdoors as a classroom or tend to hesitate every time you take your class outside, this unit is an invitation:  an invitation to increase the quantity and quality of your K–2 learners' contact with nature and trees. Through Treemendous Science! students will explore, experience, and observe trees. They will collect tree data to develop understandings about how trees grow, the roles trees play in ecological systems, and the ways in which trees and humans interact.
This unit is intended to supplement the opportunities that you already provide to your K–2 students. It assumes that you have a planned curriculum and a well-trained support system. This introduction addresses the following topics:

Unit Approach
Treemendous Science! is truly novel in its approach, as it was constructed around—rather than correlated to—targeted Performance Expectations within the Next Generation Science Standards (
NGSS
). Created for kindergarten to second grade classrooms, this unit is built around the following NGSS Performance Expectations:
In exploring these life science, earth science, and physical science concepts through tree-based investigations and analysis, K–2 students apply multiple scientific and engineering practices to understand the crosscutting concepts and core ideas involved.
Academic Rigor
Project Learning Tree's philosophy of teaching students how to think, not what to think, is integrated throughout this unit. PLT enhances critical thinking, problem solving, and decision-making skills. In addition to NGSS's three-dimensional teaching and learning approach, PLT's transdisciplinary design allows Treemendous Science! to exhibit alignment with the following academic benchmarks:
Please review the Standards Connections section for a chart showing all the academic standards addressed in this unit.

Flexible Teaching Levels
This unit is designed to be flexible and to scaffold learning across K–2 grade levels and student competencies. For this reason, it is organized around three levels, which approximately correspond to kindergarten (Level A), first grade (Level B), and second grade (Level C).
PLT understands that the K–2 grade level band is unique, as are the student learners and educators who comprise it. This developmental period represents a time of extreme knowledge gain and personal growth, with different children developing at different paces. For example, a kindergarten student may be able to read at a second grade level, while a second grader may understand science concepts in a way that is more more typical of a kindergartner. This unit's Level A, Level B, and Level C options provide an innovative and unique way to accommodate for this variance among students.
Teachers may opt to use all three levels in a yearly succession (moving from A through C) or may select components from multiple levels as students grow in their abilities and understandings. Please review Team Teaching Progressions for additional options to construct Treemendous Science! teaching and learning.
Please note that the suggested activities are meant to be a launching point. We invite you to use your expertise and knowledge to adapt them to your class's particular situation, needs, and interests.
Instructional Models
This unit is designed around the 5E Instructional Model, which incorporates the elements of engagement, exploration, explanation, elaboration, and evaluation (see Figure 1). This model is based on the constructivist approach to learning, which understands that learners build or construct their knowledge of the world based on their experiences. This instructional model incorporates a variety of instructional strategies, such as student exploration, critical thinking, hands-on activities, scientific argumentation, project-based learning, STEM learning, and application of 21st century skills to move students to a deep understanding of concepts explored. Studies show that when they are applied together, these strategies result in greater student engagement, comprehension, and achievement.
For more information about the 5E Instructional Model, see:
The unit also follows the guidelines for best STEM practices as outlined in the Next Generation Science Standards' eight Science and Engineering Practices. They include:
Ask questions (science) and define problems (engineering).
Develop and use models.
Plan and carry out investigations.
Analyze and interpret data.
Use mathematics and computational thinking.
Construct explanations (science) and design solutions (engineering).
Engage in argument from evidence.
Obtain, evaluate, and communicate information.
Learning Progressions
The overarching goal of this Treemendous Science! unit is for students to use prior experiences to reflect on patterns found in the natural world. The unit supports learning as a developmental progression. It is designed to help students build on and revise their knowledge and skills, starting with their initial conceptions about the topic of trees and ecosystems, eventually moving toward a deeper and broader understanding of the topic.
 
Learner Objectives
Essential Questions
Level A

Students will analyze tree data, beginning with their own prior experiences and advancing to collecting, recording, and reporting data.
Students will use observations to describe patterns in the natural world to answer scientific questions

What patterns do you observe in your tree over time?
What evidence can you find of how weather impacts your tree?
Based on your observations, how do you think weather will impact your tree in future?

Level B

Students will plan and carry out investigations.
Students will use investigation-based data to answer questions (or test solutions), beginning with their own prior experiences and advancing to simple investigations (based on fair testing).
Students will collectively plan and conduct investigations to produce data that serve as the basis for evidence to answer scientific questions.

How does the amount of sunlight in winter compare to the amount at other times of the year?
How does the changing amount of sunlight impact trees?

Level C

Students will plan and carry out investigations to answer questions (or test solutions), beginning with their own prior experiences and advancing to simple investigations (based on fair testing).
Students will observe, collect, and organize data that support scientific explanations (or design solutions).
Students will collaboratively plan and conduct investigations to produce data that serve as the basis for evidence to answer scientific questions.

What can we learn about trees and their habitats by closely observing them?
What patterns can we see in trees over time?
How are habitats alike and different?
Lesson Planning Timeline and Tips
Each level is designed to take place over the course of one school year. In a typical school calendar, this year of study would begin when the school year starts in September, wrapping up when the school year ends in May. This time frame allows K–2 students and their teachers to observe tree changes throughout the changing seasons and accompanying hours of daylight. We have created a 
timeline
 to illustrate how these pieces might fit together. Be aware that you may want to adjust the timeline if your students need more or less time for one or more of the activities.
Please note that this timeline shows just one way to implement Treemendous Science! lessons: by level. We invite and encourage you to use your own creativity to modify the content presented in this unit to fit your curriculum or learning program. Please feel free to combine or adapt lessons or use lessons from different levels in whatever order works for your students.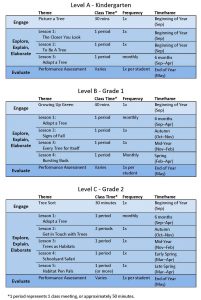 Organization and Navigation
This unit and its three teaching levels are designed to be user-friendly and easy to navigate. You will find topic items related to the unit as a whole listed in the left-hand navigation bar. Once the appropriate teaching level is selected, tabs for individual level components appear across the top. The charts provided below detail both menus and their component parts.
Unit Components – Topic items related to the unit as a whole are detailed in the left-hand navigation bar. You will see large chapter headings that denote introductory materials, three different teaching levels, and additional resources. These sections are summarized in the chart below.
Chapter Heading
Unit Component
Description
Treemendous Science!
Introduction
Contains essential founding principles for this instructional unit, including details on the unit approach, academic rigor, flexible teaching levels, instructional models, learning progressions, lesson planning timeline, and more
Teacher Background
Provides helpful information, including content, photographs, and vocabulary terms, for teachers to review before and reference throughout this unit of study
Team Teaching Progressions
Details possible cross-collaborations in K–2 academic planning that can take place between and among  teachers at the same school
Teaching Level
Level A
Unit of instruction designed for students at an average kindergarten level
Level B
Unit of instruction designed for students at an average first-grade level
Level C
Unit of instruction designed for students at an average second-grade level
Appendices
Standards Connections
A summary of all academic content standards covered throughout this unit (including NGSS, CCSS English Language Arts, CCSS Math, and the C3 Framework)
Learning Centers
Additional ideas for using art, discovery, manipulation, math, and more to make Treemendous Science! experiences accessible to children with varied needs and learning styles
GreenSchools
Overview of and correlations to PLT's GreenSchools program that supports students taking action on environmental improvements at their school, at their home, and in their community
Materials
A comprehensive list of all materials used throughout the Treemendous Science! Unit, sorted by level
PLT Conceptual Framework
The foundation for all of PLT's curriculum materials, arranged around five major themes: Patterns, Interrelationships, Systems, Structure and Scale, and
Stability and Change
Acknowledgements
Listing of the many individuals involved in creating this E-Unit
Technical Support
Answers and trouble-shooting ideas for technical questions
Level Components – Clicking on one of the Teaching Levels (Level A, B, or C) in either the left-hand navigation bar or in the tabs across the top will open up that unit of instruction. Once the appropriate teaching level is selected, new tabs will appear across the top, detailing the following instructional components.
Level Component
Description
Overview

 Provides a brief description of the lesson

Engage

Conveys lesson context using Essential Questions
Offers teachers opportunity to reveal students' prior knowledge and associated attitudes and ideas
Immediately engages learners in introductory investigations that reveal existing understanding to students themselves and to the teacher
Engages student interest, right from the start

Explore, Explain, Elaborate
Explore:

Tests student ideas, thereby developing knowledge through the use of explorations, investigations, and experiments
Offers opportunities for students to record, communicate, and modify their ideas as they change over time
Invites students to develop new questions and testable hypotheses

Explain:

Answers Essential Questions through student explanations
Expands students' relevant vocabulary, formal definitions and explanations of concepts

Elaborate:

Extends students' conceptual understanding through knowledge application or practice in new settings

Evaluate

Assesses student understanding, with the help of a recommended rubric
Includes suggestions for Pre-Assessment, Formative Assessment, and Performance Assessment

Tools

Supplemental resources to support instruction, including student worksheets, children's literature recommendations, and home connections
Collaborative Discussion Strategies
The following discussion strategies will help to maximize class participation, focus student attention, and engage students in a topic, and may be used in any of the Treemendous Science! lessons.
With each strategy, students work together to answer a question or prompt on an assigned topic. You may also expand the sharing into a whole-class discussion. When introducing any new strategy, be sure to model the strategy first and to clarify your expectations.
Think-Pair-Share
This strategy has three steps:
Think – Begin by asking a specific question about the topic. Students "think" about what they know or have learned about the topic.
Pair – Pair each student with another student.
Share – Students share their thinking with their partner.
Turn and Talk
This strategy involves posing a question or prompt for students to discuss in a given amount of time (such as one minute):
Turn – Have students turn to a specific, previously assigned partner. It is best to assign the partners strategically, rather than randomly.
Talk – Set a timer for the allotted time and have students discuss the question or prompt.
Give One, Get One
This strategy gets students moving and talking with several others, one at a time:
Direct students to write down or draw three of their ideas about a question or prompt. You may choose to have them put each on a different sheet of scratch paper.
Invite students to get up and move around.
Call out "Give one to a partner." Students form pairs with a person near them.
Direct pairs to share one of their ideas with each other, so that each student "gives one" and "gets one."
Call out "Move on" and have students mingle again.
Repeat steps 3–5, with students sharing a different idea with a different partner each time.
Contact Us
If you have questions, comments, or feedback regarding this unit, we invite you to please contact us at [email protected].